Connecting Campus to Campus
Growing up, I always refused the idea of ever working with kids. I was also convinced that I wouldn't be able to handle the multitude of personalities, the challenges, and realities of young people of color. When I was given the greatest opportunity of being a mentor, along with two of my peers, to fifty students at Roberto Clemente High School, I was hesitant and nervous. I strongly doubted my ability to create relationships with students that would enable me to challenge and engage them in community.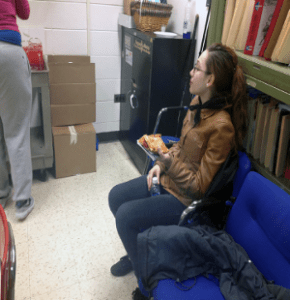 In getting to know each student and their struggles, it became apparent how strong our youth truly are. I have met students whose determination, resilience, and persistence has surpassed anything I have seen in my peers. I have seen students handle grief in the most mature, understanding way possible. I have seen students who seemingly balance the responsibilities of adulthood, parenthood, and education with ease. Each student has inspired me in every way possible. They refined my patience, balance, and thoroughness. Most importantly, they have proved to me that I am capable of being a positive influence and help in the lives of our youth.
In the past eight months, I have been lucky enough to create a relationship with all of the students who walked into our classroom last October. I was proven wrong willingness of each student to accept our help, share their personal struggles with us, and their interest in getting to know us beyond the title of "College Coordinator." The students engaged us in discussions about community, activism on our respective campuses, and our youth work. Our students willingly participated in the multi-media cell project calling for the release of Oscar Lopez Rivera held in Batey Urbano. They asked questions, signed and had their friends sign petitions, and demanded that they were kept well informed on the status of the campaign to free him. When the process of creating this edition began, our students were excited to have their reflections and accomplishments published. My students were are going to be attending NEIU in the Fall told me how dope they thought the QOS office is and how they really want to get involved when they get to the university. Their raw enthusiasm and passion for the community work that us mentors are dedicated to only strengthened my love for this work and gave it even more meaning.
As this year is winding down and our students are ready to graduate and embark on their journey into academia, I find myself reflecting on the amazing year I had of firsts. It was my first time working with students at Roberto Clemente and my first year as editor-in-chief of Que Ondee Sola. For me, the fact that these two events coincided with each other speaks to purpose of both this magazine and the pipeline. Forty-one years ago, a group of young Puerto Ricans from Humboldt Park felt the need to create a space of reflection, growth, hope, and change at the university level. These students mentored each other emotionally and academically, paved a path for Latin@s to re-connect with their communities, and realized the importance of assisting the youth in their community through their college career while simultaneously teaching them the history of their people and communities. Two years ago, the College Pipeline came into fruition at Roberto Clemente Community Academy, a school founded forty years ago by some of the same people who created the Puerto Rican/Latin@ presence in NEIU. The Pipeline strives to create a space for home-grown university students to guide high school seniors through the college process while teaching them about resources available to them on campus, the history of student involvement on campus and in the community, and paving a way for them to root themselves in community.
These avenues have allowed me the opportunity to offer the guidance that previous QOS members gave to me when I walked into E-041 during my freshmen year of college.
I am so proud and excited for all of the students who passed through our classroom at Roberto Clemente. I feel like each of them has given me priceless, countless experiences that have made my year extremely amazing. I do not doubt that all of them will succeed in whatever they chose to persue in life. I hope that each of them holds on tight to this experience and doesn't forget any of us mentors and Humboldt Park! Here is my gift to you. Good luck!