EDITORIAL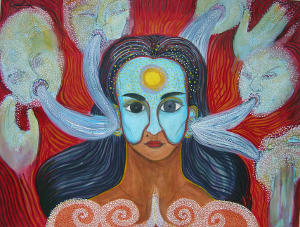 Women's International Day is one day out of the year to actively celebrate the successes of women all over the world. Since I first began my activism, I have been lucky enough to meet many influential, dedicated, and intelligent women, one of them being Lizette Cruz.
Lizette is one of the current featured artists at the Institute of Puerto Rican Arts and Culture. Her art is being celebrated this International Woman's Day, along with Patricia Perez's "40 Years of Que Ondee Sola" canvases. When I first approached her about QOS' annual Women's Edition and the possibility of featuring her and her artwork in the edition, she didn't think twice. Throughout this process, Lizette has been extremely patient and willing. She took the time to explain her beautiful art that is full of caribeño influences.
Her art captures the essence of the Caribbean island that we dream of in the cold Chicago winters. It is an honor to have met a person as artistic and as insightful as she is. She, along with my other companeras, has broadened my understanding of my Latinidad as a Puerto Rican woman. She has reminded me to be influenced by the rich, expressive, vibrant culture in my beautiful community, Humboldt Park and incorporate the politics of the island in my work. I am so proud that my community celebrates womanhood and supports influential artists such as Lizette.